A full backup means duplicating your Mac's entire

internal

drive to a second volume, an

external

drive. This is done using a backup utility app such as Time Machine, or a clone app like SuperDuper or Carbon Copy Cloner (covered below). By having

all

data stored on two drives, your files will not be lost when a drive fails - and they all fail eventually - as long as your backup is properly configured and kept current.




Check internal drive capacity and use an external backup drive of equal or greater capacity. Keep it current and use it for backup only.





Cloud backup may not be good enough. Here's why:


Cloud backup services only store unique personal files. In the event of a drive failure, you will need to install OS, apps and updates to replacement drive, then restore your network settings before you can retrieve files from cloud storage. You'll need many of your passwords and all of your patience.




Other Cloud backup considerations
Security is always a concern; avoid scams by using Apple's iCloud only.
Sending all your data into the cloud puts modem, router, internet service provider, passwords and servers between you and your data.
Using cloud backup also means you surrender exclusive rights to your files and photos - see End User License Agreement (EULA).
No clue where your files are stored or who might have access to them.
Unfortunately, things are changing fast, and not necessarily for the better. Apple has eliminated the ability to make a full and complete backup volume for Operating Systems after OS 11, Big Sur and M1 Macs or later.


Backup is not what it used to be
Apple's built-in Time Machine backup app is no longer recommended here at the shop for later OS versions and M1 or later Macs. New MacOS security features prevent the ability to make a proper (complete) backup by excluding the OS from the backup process.
Since OS 11 Big Sur, Apple has locked its Operating Systems, thus preventing copy to any external drive - including your own backup. This means that even if you have a full backup of a late-model Mac, you won't be able to restore a working machine without (somehow) downloading a new OS (12+GB).
Other new security features can permanently lock you out of your own Mac and even brick the machine.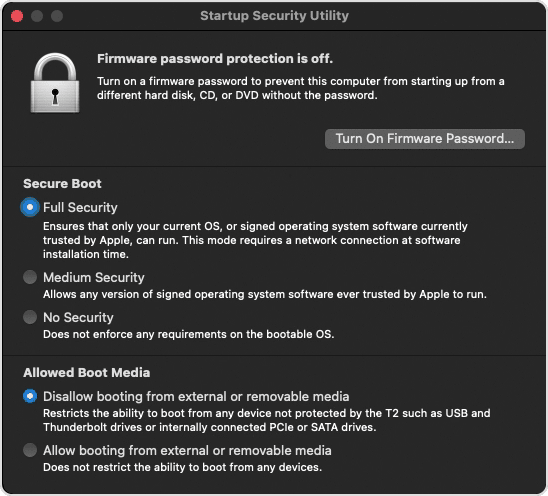 Security settings from Recovery in MacOS 11 Big Sur and OS 12 Monterey

NOTE: Secure Boot security is ON by default for OS 11 Big Sur and later.
While access is normally limited by a login password, the first option above - Firmware Password - will brick your computer if set to on and firmware password is forgotten. Don't go there. If it's on, turn it off - if you can.

Secure Boot settings as set above (default) effectively prevent any data recovery, troubleshooting or access. If you're running Big Sur or Monterey, do yourself a huge favor and set these to No Security and Allow booting. Without correcting these settings, all data is lost should machine have a startup problem.

It gets even worse after MacOS 12 Monterey

Starting with OS 13 Ventura, the No Security setting above was eliminated, along with its Allow booting option. Startup Security is set to Full Security by default. OS Ventura's Startup Security window looks like this: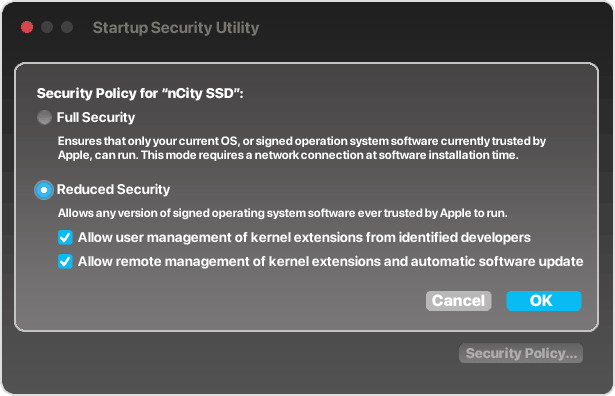 Startup Security from OS 13 Ventura Recovery mode Startup Security menu - set to Reduced

How to disable or reduce Startup Security:

Start with machine shutdown and OFF.
Intel Macs: Press and hold Command key + R during startup until Apple logo appears onscreen, then let go of keys. This boots into Recovery mode. Select language if asked, then look in menus for Startup Security. Change security settings to reduced or off (as above).
Quit out of Recovery, set startup and restart (normally).
M1/M2 Macs: Hold power button down for 10-15 seconds until startup options appear. Select Options, continue, and following prompts. Look in menus for Startup Security or Security Policy and change settings. Quit and restart normally.

What these security changes mean, even if set to "Reduced" as shown in Ventura above, is that M1/M2 and later Mac can no longer:

Make a full backup to an external volume using any backup app, including Time Machine; only your personal files are copied - OS and System settings are excluded by Apple's new security protocol.
You cannot access your M1/M2 Mac from external drive or networked Mac.
In order to create a bootable Ventura (or later) volume or backup, you must first download the OS install utility from Apple, install OS, then migrate your data into the new OS. Be prepared for a surprise or two, as any number of things can go wrong.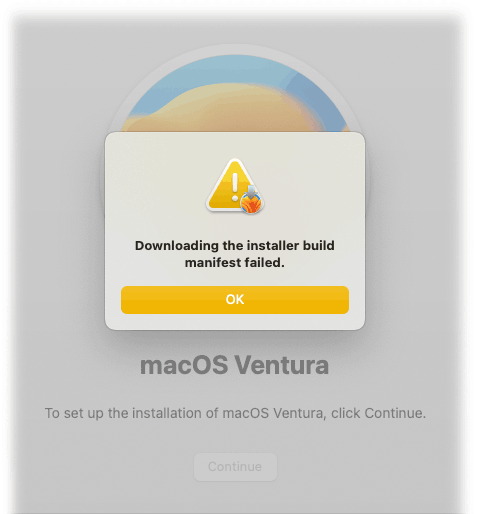 Nothing "OK" about this.... Note disabled Continue button adding insult to injury

Backup isn't just for drive failure...

One big reason to create and maintain a proper backup has to do with OS upgrades, program installs and updates. If you make a full/complete/proper backup _BEFORE_ applying changes, you'll have an "undo" option if something goes wrong or you find you can't tolerate the change.

But, by excluding the entire Operating System from any backup, Apple has now made this impossible. It's not likely that many people will go thru the trouble required by Apple's Ventura and later OS versions, so recovering from a failed drive or damaged OS will be a major ordeal from here on.


It has to be dependable and convenient.
If your Mac happens to have an unused drive bay (rare), use it. Otherwise, an external drive of sufficient capacity is necessary, Compact, pocket-sized 2.5" external backup drives like the one pictured here are

commonly available from most office stores. These drives are powered and connected thru a single USB port. Pocket-sized SSDs are also available and some go well beyond 2TB capacity. Seagate, Western Digital, SanDisk, PNY - get a quality, brand name drive.
It bears repeating that if you are using the Ventura OS or later, making a full/complete/bootable backup is no longer possible because OS and apps are now left behind, making backup to a drive little better than cloud backup (which may be the objective of such changes).

HARDWARE HALF of making a backup:



External drives may connect via FireWire (discontinued), Thunderbolt, or the most common, USB and USB-C (aka Thunderbolt-3).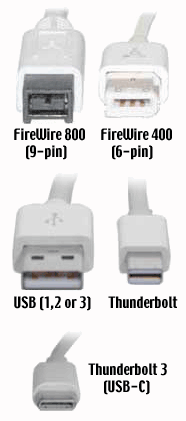 FireWire 800 was backwards-compatible with 400 back in the day, and adapters are still available for old Macs (aka FireWire 9-pin to 6-pin). Firewire was abandoned in 2011 and replaced by Thunderbolt.
External drives are available at office supply and electronics stores, or online. A good online source of drives and enclosures is New Egg, at
newegg.com
.
Enclosures for full-size desktop 3.5" hard drives are also available. Advantage here is a huge amount of storage in a single drive at reasonable cost. Down side is slow speed as compared to an SSD. 3.5" Drive capacities range from 1TB to 20TB and more. Some enclosures for these drives use a power brick, others have power adapters built-in. Some have fans, others cool by convection thru an aluminum case, and most will have internal SATA connectors. SCSI drives are still available, tho rarely used these days due to cost.

All backup drives will likely need to be formatted, and most include annoying utilities that you neither need nor want - erasing the drive and reformatting for your OS version will also get rid of those unnecessary files.

RAID arrays
may be required for large space requirements, such as video storage. Pictured here is the business end of a 4-bay RAID array containing 3 full-size hard drives (the minimum RAID arrangement). RAID arrays (RAID = Redundant Array of Independent Disks) may be configured as backup and/or storage, or both, with up to 12 bays in a single enclosure - but be prepared for sticker shock. A good choice for video editing, enterprise server applications and more-than-normal storage requirements. Please note that RAID arrays require special formatting and setup that is beyond the scope of this discussion; a brief intro may be found on DriveSaver's blog, found
here
.
SOFTWARE HALF of making a backup:
iCloud
: As mentioned at top of this page, cloud backup has its limitations, but it's certainly better than nothing. If this is your choice, keep the nonsense to a minimum by using Apple's iCloud service. An iCloud account provides cost effective online backup and also allows you to synchronize your files across multiple computers, iPads, iPhones and Apple devices; the sync function of iCloud is useful for managing workgroups and multiple devices. If your equipment is up to date and you prefer online backup, give iCloud a go.
Be advised:
There are bogus cloud "backup" services and software floating around out there that must be avoided. Know who you are dealing with before sending all your data out into space. Use Apple's iCloud.
Time Machine
: Apple addressed the need for backup by including their Time Machine backup utility with the MacOS, providing easy automation, once an external storage drive has been setup.
Restoring your data from a Time Machine backup prior to OS 11 Big Sur is a piece o'cake. Later OS versions (Ventura+) requires downloading a new copy of your OS before migrating files from Time Machine backup. Because of this, we now prefer to use a clone app at the shop, like SuperDuper! or Carbon Copy Cloner for backup.
Carbon Copy Cloner
: Drag-and-drop install, ease of use and a full compliment of automated features, CCC has everything necessary for reliable backup. Download is fully functional for a limited evaluation period and comes with a comprehensive user manual. Quick and reliable, its easy interface hides a sophisticated core that has matured over the years and kept pace with all the latest changes.
SuperDuper!
From our friends at Shirt Pocket, SuperDuper has a clear and simple interface, quick and easy to use with an outstanding feature set at a very reasonable price. Still available for all older Systems, all the way back to PowerPC machines. Free to download, it can be used immediately; purchase and registration will unlock its full capability, including automated backup.
Info above should get you started with backup and help along the way. By all means, make a backup plan if you don't have one already; if you do have a backup, keep it current, as it may well save your bacon some day. Note that backup from Ventura OS and later is not what it used to be, as mentioned above. If this is all too much to deal with, we'll be here to help.