Macintosh Separation Anxiety (MSA).
We're here to find solutions, improve performance and lend support to all Mac users, especially those who reside in the Nevada County area. We are also sensitive to a unique condition which only affects the Macintosh platform: Mac Separation Anxiety. We operate quickly and efficiently to help alleviate any undue suffering caused by MSA, and we know that servicing the machine is only half the job; we'll get you back up and running, do our best to explain what went wrong (if possible), and suggest improvements.
nCity MacShack is not a retail business.
When servicing machines we quickly obtain proper replacement parts as needed and happily procure equipment and software as necessary to perform upgrades or enhance capabilities, but we have no inventory on hand and nothing to sell apart from services offered. Please feel free to shop our Vendor and Resource links for Mac-related products you might require.



nCity is strictly service oriented.
We operate on a time-and-materials basis. Replacement parts, materials and equipment are treated as incidental to service, and we only charge for services rendered.

Minimum diagnostic fee applies if that's as far as we go, but this is usually waived if shop services are retained.

Per-incident hourly shop rate. Shop rates are prominently posted - on a post, no less - at the shop. (Billable time generally excludes most automated processes that do not require supervision.)
Onsite services are only provided for extraordinary installations or large-scale operations; aside from such projects for established clients, we haven't made house calls since '01.

Personal consulting/training: Bring a list of questions and/or issues to be resolved and we'll address as many as possible in a 2-hour session while trying to keep the technobabble to a minimum. Individuals or couples, please call in advance to schedule an appointment.
Specialized Courses: nCity may soon offer a select few classes suitable for small groups, corporate clients and local clubs. These courses will be posted in the Tutoring and Classes subsection under Support Ops heading (left) if and when such classes are made available. Meanwhile, given a specific topic and enough lead time we may be able to tailor a presentation to your needs.

Outsourcing: nCity maintains a roster of service providers and resources we recommend for situations that may go beyond in-house scope. These include PC support, web design, and other specialized areas of expertise that may be of benefit to our clients.
Why not put that retired Mac back to work?


Many older Macs are still powerful machines, even if they have become obsolete by internet standards. Some are perfectly suited to dedicated use in audio/video applications, home automation and security, keeping database records, or most any task you might assign to a computer. Sometimes it's just a matter of remembering - and finding - a certain program version from the old days, or maybe it requires an adapter or gizmo of some sort. We might be able to help you get the most out of your second-string Macs, too.



Need a replacement part or repair?


nCity is not in the retail business. We have no product line to peddle, no connection to any particular vendor, no hidden agenda, and we're not here to sell you anything. But, if there's a part required to complete a repair, we'll find it. Complete systems - assemblies, boards, cards, odds and ends, new or used - it's all available from a surprising variety of sources. We'll do our best to find what you need, from the best source, at the best price.





"You have a backup, right?"


If you answered no, it's only a matter of time before you'll face that question for real. Work representing days, months or years of effort can disappear in a flash. It happens. We might be able to recover your data, but nothing beats a solid backup strategy. While you consider your options, take a look at our Backup Schemes page for some suggestions.



Wish you could ______? Learn how.


nCity offers one-on-one tutoring for newbies and 'noids alike. We can help you to understand today's computer technology and expand your horizons, tell you what you need to know to make informed decisions, and help you avoid trouble. Take a look around this site for suggestions and resources.










Scheduling: Appointments versus walk-ins.




It is always best to make an appointment if your machine is in need of service so that we can be prepared to deal with your specific issue when you arrive. We all have busy lives these days; if we know you're coming and have some idea of what the problem might be, we can get right to it. We'll do a diagnostic, plot a solution, and get you on your way as quickly as possible.

We welcome walk-ins, too, as time permits. We may be working with a client at any given moment and you might have to wait a bit because it's first-come, first-serve around here - as you'd probably expect. We appreciate your patience. We have an overstuffed sofa, usually have coffee brewing, water and soft drinks on ice if you like, and we'll do our best to make you comfortable until we can get your Mac to the bench.

Payment in full is due upon completion and delivery of each job. We do not accept credit cards at this time - payment by cash or check only, please. We reserve the right to refuse service as we see fit.


Paying clients always take priority over casual discussion, and we must bill for our time if diagnostics are required. We cannot diagnose a machine over the telephone, nor can we offer advice based on assumptions. We get a lot of "quick questions" which seldom have quick answers; please understand that we have limited time for answering questions from the general public.

Something we've noticed recently (as the economy tanks), is a growing stream of people hoping for a miracle and trying to make something out of nothing. One guy pulled a 14-year-old notebook out of a dumpster and wanted to know if we could replace its missing RAM, keyboard and battery - then "upgrade" it. The answer is NO. We're not here to waste time or money - yours or ours. If servicing a machine will exceed its street value, we will certainly tell you and will likely recommend replacement rather than repair.



Breaking and entering?


No, I don't think so. If you want help with stealing software or breaking into someone else's computer, forget it. Don't call us, we'll only send you packing. Strange as it may sound, we actually get calls from people trying to do just that; guys with an ex-wife's machine, former employees with company equipment, not gonna happen. If you don't know the login password to that machine, you're outta luck.



We work for private parties only.


Federal, State, County, City and Special Districts - including fire districts and school districts -

must

provide full payment of estimated service costs

in advance

. We are not here to fill out paperwork, we do not operate as subcontractors, and we cannot - will not - wait 90 days or more to receive payment. When one has to spend more time getting paid than it took to do the job, it's a loser in anybody's book. This is a policy born of experience and is not open to discussion.

We cannot accept work thru other shops, consultants, or agents. We only work for private parties. There may be many decisions to make along the way which require the active participation of the machine's owner, and we are happy to discuss options and provide services to the person whose name appears on machine's admin account. Trying to sort out details thru a third party is seldom necessary and is usually problematic.

Abandoned equipment:


Equipment left on premises 30 days or more after completion of services will be deemed abandoned and disposed of as appropriate. We will allow 90 days to resolve insurance estimates, as arranged when equipment arrives. We make every effort to complete jobs in a timely fashion and contact responsible parties upon completion, but we must reclaim shop space and recoup our expenses (if possible) when equipment has been abandoned.








Do-It-Yourself (DIY) repairs and user-modified machines.


While the vast majority of Macs that pass thru our shop have never been tampered with internally, every now and then one arrives that has been opened up and modified, upgraded, or "fixed" - with various degrees of success. Computer service requires special tools and some degree of experience with printed circuit boards, components, connectors, troubleshooting techniques, and it often requires knowing your way around specific machines. There are plenty of potential pitfalls awaiting the unwary. Towers are pretty indestructible, but laptops and most desktop models require a bit more expertise. Before you decide to let a friend, neighbor, or relative "take a stab at it," you might wanna think twice.





We usually decline to service or repair a machine that has received DIY treatment since we have no way of knowing how much damage was done, what condition it is in or what may be missing when it arrives in a box. More often than not, the DIY approach starts with an incorrect "diagnosis" turning what might have been a quick fix into a morass of multiple problems. This applies to software issues, too. We see it all the time. A minor adjustment or change might have solved the problem, but now the OS has been hosed or data lost due to bad advice and blind trial-and-error. Once you start down that DIY road - sorry - you're on your own. Please don't expect any guidance or advice after the fact.





(By the way, same applies to PC techs who have little or no experience with the Mac. Some will gleefully go where they've never been before. Not good. We're not here to save their bacon, either.)










Hardware upgrades.




Is a new machine necessary, or will an Operating System (OS) upgrade get the job done? Sometimes, OS and processor upgrades go hand-in-hand; an OS designed to run on multi-core processors might seem somewhat sluggish on a lesser machine that can't take advantage of all that power. On the other hand, suffering with a long-outdated OS installed on a machine with processing power to spare is a waste of potential. Matching OS to CPU is not as clear-cut as it once was, but a little investigation will sort things out and present a variety of options. There's more about matching OS to CPU on the Technical Support page (going back to the first Mac) along with port drawings, RAM info and reference materials.

Use nCity's Link pages to shop around, gather as much info as you can using our list of Apple links and other resources, and we will be happy to discuss various options and possibilities with you.



OS updates - versus - OS upgrades:


It's important to understand the difference between an Operating System

update

- usually a free download - and an OS

upgrade

. Apple currently designates OS versions thus:
MacOS 10.6.0 thru 10.6.8 = Snow Leopard
MacOS 10.7.0 thru 10.7.5 = Lion
MacOS 10.8.0 thru 10.8.5 = Mountain Lion
MacOS 10.9.0 thru 10.9.5 = Mavericks
MacOS 10.10.0 thru 10.10.5 = Yosemite
MacOS 10.11.0 thru 10.11.x = El Capitan
MacOS 10.12.0 thru 10.12.x = Sierra

First number (10) merely indicates OSX (all OS versions since Y2K).

Second number is the significant System version of OSX.

Each considered an

upgrade

from previous release.

Third digit denotes

updates

for that OS release.

OS Updates

are free downloads released periodically and may include new or enhanced System features, bug fixes, and/or security patches for your specific OS version. All Operating Systems should be kept reasonably current by downloading and installing OS updates as they become available.

Please note: We strongly recommend making a proper and complete volume backup _

before

_ applying any updates, upgrades or software installations.

(Confused yet? ;-)

Application program selection:


Looking for a new graphics program, a replacement for Office, web authoring applications, point-of-sale (POS) program, or a new database solution? Wondering what others are using, or if there's some defacto standard? By all means, do your homework and shop around! Does one company provide better support than another? How often do they release updates, and at what cost? Does it have the features you require, are there compatibility issues, does it have a future? Are there monthly charges involved? All these questions come into play when selecting software, and making an informed decision can save a great deal of time and trouble in the long run.





Sadly, the #1 software program of any given type isn't necessarily #1 because it's the best product and best choice. Selecting software may mean a substantial investment of both time and money, between stupendous learning curves and expensive updates (Adobe comes to mind). A lot of work goes into creating good software, but sometimes other aspects can crowd out quality as the first concern. Perhaps one critical function will overshadow all other considerations and become the deciding factor. Shop around and test-drive candidate applications before buying; examine competing products, and explore all avenues before spending those hard-earned dollars and making a commitment to a particular software product.













Time to upgrade? It's relentless...




If you need Thunderbolt, Optical Audio or the brand-new [insert acronym] ports, it's probably time for a new Mac. If you do large file transfers, audio/video editing, or have massive storage and access requirements, you want huge, fast and powerful. If your needs are more modest, the expense of upgrading can be quite modest as well. We can help sort through all the technicalities and options, discuss alternatives and make suggestions, sometimes we can even suggest ways to save money without sacrificing quality or capability. How much storage will be enough, and for how long? How much memory? Which type of media is best suited for your purposes? Is speed a big factor or a minor concern? The number of choices can be overwhelming, as can the endless list of technical details. It's really not so much a mystery as it is a matter of balance; balancing need versus budget, present capabilities versus future standards.





Adding additional storage, new hardware and backup solutions:


Storage solutions include adding internal drives (to available bays), replacing drives with larger capacity models, and adding external drives using Firewire, USB, eSATA, Thunderbolt, ethernet or wireless. (If you don't have a backup, now might be a good time to consider adding one, too.) Or, you might want to add a PCI card, USB hub, switches, routers, multiple monitors, or some new output device. All sorts of gadgets and goodies are available for just about anything you might imagine. If you find you are collecting a large music, photo and/or video library, perhaps it's time to consider adding a dedicated storage drive and (more) backup to your system. There's no shortage of equipment options available, and we can help tailor a configuration to suit your needs.





When it comes to designing a backup system, the most important aspects are reliability, ease-of-use (automation), and security. If you primarily deal with text files and internet, backup options are the least exotic and most cost-effective. Hardware requirements for more complex and sophisticated backup operations can increase dramatically, as can planning, security and execution costs, especially when adding margins for future expansion. If you can bring yourself to apply a dollar amount to your data and work, you'll have some idea what a backup system is worth to you. In any case, we'll do whatever we can to help you put a secure and dependable backup system in place. (Also see Backup Schemes, left, under Shop Services.)





Enhancing system capabilities:




Whether it's a wireless network, audio/video recording and editing, or some other specialized project you have in mind, there are always countless options available and a whole lot of specs, details, choices and considerations ahead. nCity can help you navigate thru the technical details and recommend products and vendors while keeping your budget in mind.





Misbehaving Macs.




Is your machine slowing down, producing error messages, or just acting strange? We can track down the problem, give your Mac a tuneup, and correct the situation, as needed. Disk fragmentation can still happen (under certain circumstances), files get corrupted, PRAM and/or SMU might need to be reset, hard disks fill up, ports get damaged, unprotected modems get fried, and sometimes components or sub assemblies fail. More often than not, there will be some kind of warning before damage or data loss occurs, if you're paying attention. This might be a dialog box telling you your startup disk is almost full or some other problem needs to be addressed, or it might be a strange, new noise emanating from your computer. The sooner we get to it, the better.



Damage happens.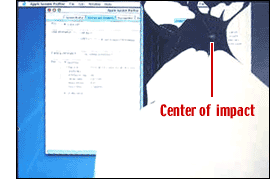 Ever wonder what a smashed LCD screen looks like? Well, here ya go. This display took a hard hit (nobody knows how) almost as though it got shot. Even with a demolished display, this Mac continued to function perfectly. Connecting an external display allowed complete diagnostics, and a replacement display put it back in service, good as new. Most computer problems are a bit more subtle than this one was, but it's a good example of the Mac's durability; see TechTales and Disasters page (under Support Ops) for other examples of Macs gone wild.



Was a time when a briefcase held all the answers.
Was a time when a 400K floppy held both OS and apps with enough room left over for a few docs, too. There were no hard drives, no internet, no ISPs, no broadband bills. Those days are long gone, but as spectacular in their simplicity as they once were, they've been surpassed by exotic capabilities which once seemed impossible.

Aside from major installations (and a handful of loyal clients with extenuating circumstances), we just don't do house calls anymore. But - we might be able to recommend someone who does. A lot of things have changed over the years, and we can make much better use of time these days with all the assets and resources available here at the shop.